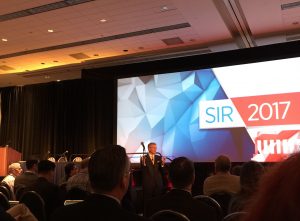 Meet MACRA is the 2015 Medicare Access and CHIP Reauthorization Act which was passed quietly with overwhelming bipartisan majority (yes this is still possible). MACRA is Medicare's new reimbursement system, which will very likely also affect the policies of other payers such as insurance companies.
MACRA replaces the sustainable growth rate (SGR) and a patchwork of programs focused on resources use, health information and quality. It established a new value-based reimbursement model—the Quality Payment Program.byAt last week's Annual Meeting of the Society of Interventional Radiology (SIR) in Washington DC, Senator Daschle spoke in a session dedicated to the topic. The idea is that fee-for-service is no longer sustainable and will be phased out. The goal is to provide "value" defined as quality divided by cost. Value-sensitive organizations will get a bonus of up to 18%. It is needless to say that resource-insensitive specialties and facilities will see cuts. The benchmark year for these bonuses started 1 January 2017 – meaning MACRA is happening already. And it seems only few are ready or even aware of it.
Interventional image-guided procedures are well positioned to demonstrate excellent patient outcomes and have lower cost than traditional surgeries. A major push is thus underway by SIR to encourage practitioners to participate in a registry and use standardized reporting [1]. In the end, this will all be about big data comparing delivery of care among specialties and institutions by benchmarking patient outcomes and the resources used to produce them.
Now may be the best time to integrate Comfort Talk® in your practice. Our large-scale studies showed Comfort Talk skills, applied by trained procedure personnel, not only reduce pain and anxiety during cases, but also save an average of $338 per case, and shorten a 78 min case by 17 min [2-4]. That adds up quickly and may determine who will get the coveted bonus and become preferred provider.
CLICK HERE FOR MORE THURSDAY THOUGHTS
References