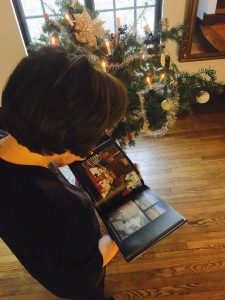 Probably like many people you took pictures throughout the year, possibly even lots of them. Selfies, memory boosters, group pictures, attempts at being artsy, and really fabulous shots may be living somewhere in the cloud or on your devices. Unless you are really well organized, that's where they will likely remain until storage space runs out. You may not look at them as much as they might deserve. Here is a simple solution for not only cleaning up this treasure but also making yourself feel good about 2016 and your preparation for 2017.
Years ago I started a little tradition of making our photo yearbook. It is now so easy to just pick photos and place them in one of the online templates for a photo book. The fact that these books have page limits forces you to be somewhat selective in what you pick. Taking your calendar and photos you can paste whatever events happened. No pictures for a memorable event? Just add some text. It may have been a vacation, a celebration, a business trip, a work event, a simple lunch or breakfast with friends, or pictures from a walk through town. When you are done you will likely come to appreciate how much good actually happened to you personally in these 12 months, how much you were able to accomplish or overcome, and that there are people and places you really love and treasure. It does fill me with gratitude when I look at the book after all is assembled on the computer and also when I peruse it on the coffee table during the year. If you are really organized you get the photo book together before the holidays and then may have a nice gift for yourself or family. But that is for next year.
Even more importantly, the exercise lets you identify what is important to you and what you want to have more of in the next year. That is actually how I got into this originally – preparing my goals for the coming year. Knowing that you will make another book at the end of the following year (even if only subconsciously) may also make you a bit more accountable for whatever your New Year's resolution might be. You might learn through making the photo book, that it is often the little things that give a whole lot of joy and count a lot. Keeping those in focus may make all the difference for staying in equilibrium even in tumultuous times and at least feeling good about yourself.