You can learn online from the convenience of your home or office (Level 1) OR complete a combined training consisting of the online course plus a 1-day live classroom seminar (Level 2).  For upcoming live training dates check under Events.
Now you can learn how to reduce patient stress, increase overall patient satisfaction, and lower costs from the convenience of a web-connected device
With the Comfort Talk Online Training Portal you will learn how to:
Gain instant rapport
Diffuse tension
Feel comfortable and confident in even difficult conversations
Find the right words with ease
Relax others and yourself
Relieve pain, anxiety, and distressing thoughts
Make medical procedures more comfortable, safer, and faster
Enhance your patients' and your own satisfaction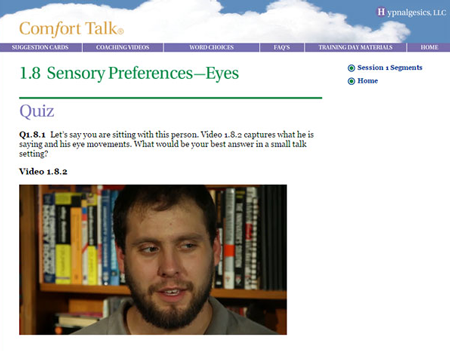 Your Comfort Talk Online Training Portal includes 20 interactive segments based on the experience of over 20 years of rigorous research in clinical practice and training of healthcare professionals are now available for self-study not only for caregivers but anyone interested in enhancing their repertoire of communication skills.
Enter Your Name and Email To View a Free Course Sample
With the Comfort Talk Online Training Portal you can earn valuable education credits: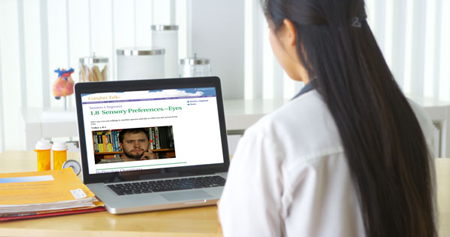 Comfort Talk ® Online Training is a Level 1 program and is approved for continuing education credits. Psychologists, Nurses, Dental Professionals, and Social Workers may earn 12 hours of continuing education credits. Radiologic Technologists may earn 6A+ credits through ASRT. All credits require passing a post-test exam.
Clinical Trial:
Comfort Talk Reduces Patient Claustrophobia by nearly 40%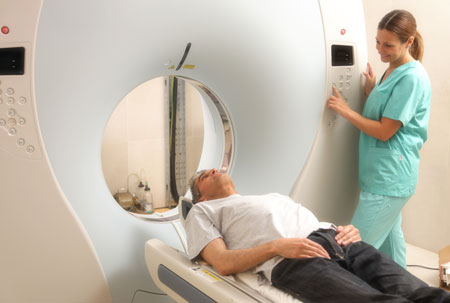 In a study of around 14,000 MRI appointments, Dr. Lang showed that training MRI teams to use Comfort Talk reduced the claustrophobia rate by nearly 40% – saving hospitals $750 to $5000 for each saved scan, depending on the insurance carrier and facility. In addition a recent three center clinical trial with more than 97,000 appointments found significantly reduced incompletion and no show rates.
Comfort Talk® Level 1 Online Training Course: $350 
Includes access to the course plus our Comfort Talk ® Training Support Portal for 1 year. Those passing the course with 80% of correct answers will receive a Comfort Talk ® Level 1 Certificate.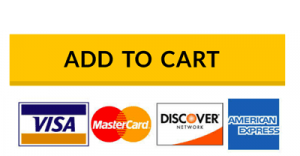 "Comfort Talk improves patient and provider interaction. Once somebody is trained in it, they're trained in it forever. For something that costs nothing once trained and that's going to save you money, it's a win-win."
– Ian Lipski, Anesthesiologist
"Comfort Talk benefits the entire department from the person sitting at the front desk to the language that you use to the TV channel that you turn on. You use it on every patient every day, and you use it when you talk to each other too. It just increases the overall standard of your environment."
– Ronda Kelley, Director of Imaging Services