The My Comfort Talk ® app provides step-by-step directions guiding you to utilize your mind's natural ability to reduce stress and bolster your self-confidence without the use of medication. Developed for the iPad and iPhone, it is now available for take-along personal use.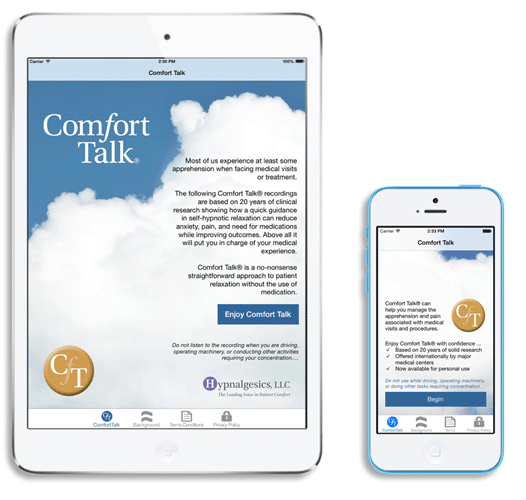 The My Comfort Talk app provides customizable audio recordings to address your specific need of the moment. Just tap the Comfort button that best matches your need—Relaxation, Confidence, Comfort, or Peace. Choose the length of time you have, choose the voice you prefer, and listen to be soothingly guided to quick relief through self-hypnosis. Use is intuitive and simple and you are always in control of your experience.
My Comfort Talk directions are audio versions of a collection of guided self-hypnosis scripts. The scripts, backed by 20 years of solid research, were originally developed for hospital use by Comfort Talk trained personnel to help patients manage the apprehension and pain associated with medical visits and procedures.
My Comfort Talk uses the same techniques developed by doctors to help patients help themselves; the same system acclaimed internationally by major medical centers for its fast, natural, safe relief of the stress and pain that can accompany medical tests and treatments. The My Comfort Talk app provides fast relief when you need it—where you need it.