Clinical Psychologists Drs. Yvette Krol and Evelyn Schrotborg spearheaded an institutional Comfort Talk® Training at Deventer Ziekenhuis that took place on 3 and 4 October 2017. I was happy and thrilled to be present at this historic moment where an institution-wide program was launched to help spread Comfort Talk® principles throughout the medical disciplines.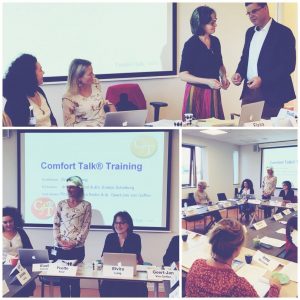 In a way it is not surprising that Deventer Ziekenhuis is the first worldwide to make the daring step to go beyond regular communication training and resource-saving personnel interventions to focus on an authentic patient-provider interactions hospital-wide. The stars are aligned when a healthcare institution is already committed to excellence in care and leadership, and includes in the mission statement that a patients "should be heard and seen."
The 20+ years of research with large-scale clinical trials and data collection on clinical implementation with tens- and hundreds of thousands of patients is now paying off. We can safely say: The Comfort Talk® method and training implementation improve the patient experience, safety, and economic outcomes.
Deventer Hospital is in a unique situation to be the world's pioneer to integrate Comfort Talk® horizontally and vertically throughout. The hospital is already renowned for its high patient satisfaction ratings and serves a population that can affect operations considerably through word of mouth. At the same time Comfort Talk® is sensitive to the new governmental mandates to provide ever greater value in healthcare. Just as in the US, the challenge is to produce better patient outcomes with less cost. Fortunately, Comfort Talk® has been proven to provide this value and is also ideally suited to comply with the newest Dutch mandates in healthcare – to not only treat disease but improve health. We believe that in this context Comfort Talk® can also teach the patient new coping skills at the time when most needed, during stressful medical procedures and encounters – skills that can be carried home and applied to health maintenance.