Comfort Talk trainers are experienced healthcare professionals who have undergone additional Comfort Talk-specific training and demonstrated mastery of content and content delivery.
To obtain the Certification of Comfort Talk® Trainer, candidates will have to:
complete at least one live Comfort Talk® Training as a trainee
demonstrate successful use of techniques in their professional practice
complete the Trainer Training Course
submit at least 6 suitable Suggestion Cards for our Training Support Module
pass the level 1 online-training and test
demonstrate appropriate communication and feedback techniques in virtual-patient interactions in our  Virtual Reality Comfort Talk Training Center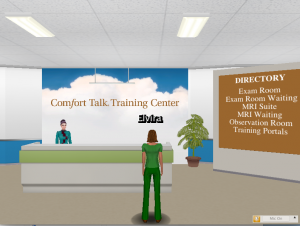 Observation of the Trainer candidate  by Comfort Talk staff during at least two live teaching sessions will be used to assess and certify the candidates' teaching ability. Grading will be based on successful application of the Trainer's Guide. Feedback from trainers, candidates, and customer end-users by questionnaire and participant-initiated communication will serve as measures of efficacy and acceptability of the Train-the-Trainer candidate and also of  accredited trainers..
Comfort Talk® is a registered trademark.  Trainers can only provide and market Comfort Talk® Training through a formal association with Comfort Talk either as contractor, employee, or franchisee. The brand stands for exceptional quality based on rigorous clinical trials. Thus all elements are tested continuously for efficacy. Strict adherence to the Trainer guidelines is hence prerequisite to maintain the Comfort Talk affiliation.